Rishi Sunak joked "it was a welcome change" to be woken up at 3am with good news as he made a victory lap of Uxbridge and South Ruislip.
The Prime Minister and successful Tory candidate Steve Tuckwell each got a hero's welcome as they arrived at a greasy spoon cafe on Friday morning after the unexpected by-election win.
They were greeted with loud clapping and cheering at the Rumbling Tum Cafe in Ruislip, where jubilant Tory activists and the party's London mayor candidate Susan Hall were gathered around small white tables and mugs of coffee.
Mr Sunak said "no one expected us to win here" as he hailed the result, which saw Mr Tuckwell secure a majority of 495, down from the 7,210 Boris Johnson secured in 2019.
He sat and talked at a table with Mr Tuckwell and his team before roving around to thank campaigners for their hard work.
He asked one group: "Are you all pumped?"
He also joked: "Normally when I get woken up at three in the morning it's only bad news.
"So it was a welcome change."
Answering questions from broadcasters as fry-ups were being served behind him, Mr Sunak downplayed the double defeat in Selby and Ainsty and Somerton and Frome, saying "midterms for an incumbent government are always difficult".
Mr Tuckwell said Mr Sunak congratulated him and "was just sharing the celebration of a great success".
Before tucking into some breakfast after a long night, he told the PA news agency: "It's great that he came out and supported me.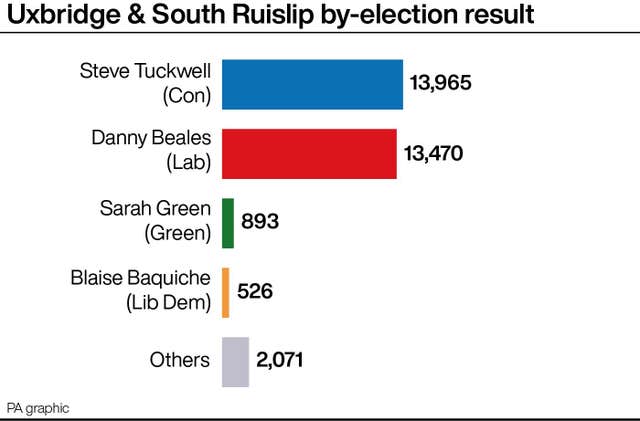 "He spoke to the team that have been supporting me for the last five weeks. And I think they deserve absolute credit as well because they have been working incredibly hard, very long hours covering lots of ground to get my message over, which is about opposition to Ulez.
"That message has now been delivered and (London mayor) Sadiq Khan now needs to listen."